Affiliate Logo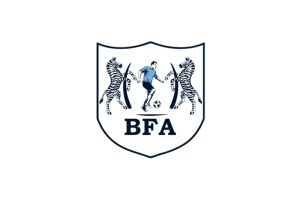 History
The Botswana Football Association was founded in 1970 (then it was known as the Botswana National Football Association (BNFA)) and was the only affiliate of Botswana National Sport Commission (BNSC) when it was registered in 1973. It affiliated to Federation Internale de Football Association (FIFA) in 1978. It is also an affiliate of Confederation of African Football (CAF), Council of Southern African Football Associations (COSAFA) and BNSC.
The BFA has 16 Regional Football Associations (RFA) affiliated to it and these have over 200 clubs affiliated to them. The chairpersons of these RFAs' form what is known as the National Council.
Programmes / Activities
BFA also has under their wing, a number of leagues, namely; the Premier League, which has 16 teams; First division league comprising of North & South, which has twelve (12) teams each. Each region also has got at least three leagues (division 1, 2, & 3) running with approximately 280 clubs registered under them.
Apart from the above mentioned activities, BFA also runs other programs such as women's football, which is still at preliminary stages, youth development programs in the form of Re Ba Bona Ha (which is basically raw talent scouting), school of excellence (development of identified talent) and village development teams (out reach program targeted at disadvantaged youth far from major towns).
We also have a number of national teams participating at different regional, continental and international levels, and these are the Senior National team, National U23 team and the developmental team (under 20 year olds).
Pitted against the world's best in international football ranking (FIFA), Botswana is currently positioned at number 99 in the world.
The development of football is not only focussed on the teams per se, thus BFA has developed to FIFA accreditation;
 
About 15 referees
6 referees instructors
3 coaching instructors
4 administrator
Executive Committee
McClean Letshwiti - President 
Mfolo Edwin Mfolo - CEO 
Segolame Ramotlhwa - 1st Vice President - Admin
Marshlow P. Motlogelwa - 2nd Vice President - Tech 
Eatametse Olopeng - Add. Member
Sesenki Sesinyi - Add. Member
Mrs Suzie Montsho - Add. Member
Masego Nchingane - Add. Member
Rapula Okaile - Premier League Representative
Samuel Keitireng - 1st Division Representative
Tokyo Modise - Western Bloc Representative
Philemon Bunu - Northern Bloc Representative
Thapelo Otimile - Southern Bloc Representative
Reiger  Mothoagae - Eastern Bloc
Sipho Ziga - Legal Advisor 
Botswana Football Association
P.O. Box 1396
Gaborone
Tel 3900279/3974997
Fax 3900280
Direc: 3906220/3974956